Priyanka Goswami is an Indian athlete that specializes in the 20-kilometer race walk. She was born in Muzaffarnagar, Uttar Pradesh, on March 10, 1996. By shattering the national record in the National Open Race Walking Championships in Ranchi in February, Goswami had earned a spot in the Olympics.
Her time of 1 hour, 28 minutes, and 45 seconds beat the previous national record of 1:29:54 set by another Bhawana Jat who was headed to Tokyo.
Priyanka Goswami Commonwealth Games 2022
Priyanka is optimistic coming into the tournament because she holds the national record. She is a dedicated athlete who hopes to replicate her performance in Birmingham this year. Her preparations for the competition have been excellent, and she has even participated in a 35-kilometer walk race to test her stamina.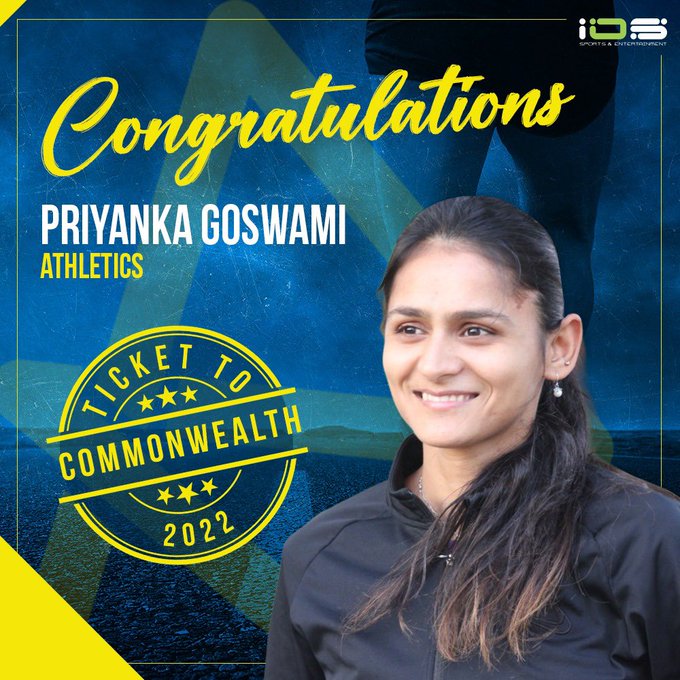 At the national championships, nine elite athletes will compete in the women's Group A 20 km race. Along with Priyanka, Rajasthan's Bhawana Jat, who represented India at the 2020 Tokyo Olympics, will be a medal contender. Baljeet Kaur Bajwa, Munita Prajapati, and Reshma Patel from Punjab are among the other famous athletes in the category.
Early Life
Priyanka was born on 10 March 1996 in Muzaffarnagar, Uttar Pradesh to her father Madanpal Goswami (bus conductor), and her mother Anita Goswami (housewife). She is blessed with a brother whose name is  Kapil Goswami.
Priyanka began her adventure in 2011. She was a regular competitor at both the state and national levels. She used to be a gymnast before deciding to pursue a career in race walking. Her parents were encouraging, but she eventually lost interest in athletics and decided to take a sabbatical. She returned after a few years away.
She recognized once she returned that she has the stamina to compete in track events. She subsequently decided to concentrate on race walking and has never looked back.
Name 
Priyanka Goswami
Profession
Indian Athlete
Height
in centimeters- 164 cm
in meters- 1.64 m
in Feet Inches- 5' 4"
Eye Colour
Dark Brown
Hair Colour
Natural Black
Turned Pro
In February 2021, when she won the 8th Open National and International race walking championship in Ranchi
Coach/Mentor
• Gaurav Tyagi
• Gurmeet Singh
Event
20 Kilometer race walk
Record
Fastest Indian in this category
Award, Honour, Achievement
Rani Laxmi Bai award, from the UP government on 24 January 2021
Date of Birth
10 March 1996
Age (as of 2021)
25 Years
Birthplace
Muzaffarnagar, Uttar Pradesh
Zodiac sign
Pisces
Nationality
Indian
Hometown
Sagdi Village, Muzaffarnagar
College/University
B K Maheshwari Inter-college, Meerut
Educational Qualifications
Arts graduate 
Food Habit
Vegetarian 
Hobbies
Clicking her photographs
Marital Status
Unmarried
Husband/Spouse
N/A
Parents
Father– Madanpal Goswami (bus conductor)
Mother– Anita Goswami (housewife)
Siblings
Brother– Kapil Goswami
Career and Achievements
Priyanka began her career in the 800m and 1500m races but had no success. Her coach encouraged her to convert to a 20-kilometer race walk. Priyanka began to find her stride in the race walk discipline. She won the Indian Race Walking Championships in New Delhi at 1:37:58.
At a time of 1:31:36, Priyanka won silver at the Indian Race Walking Championships in 2020. She won the gold medal at the 8th National and International Race Walking Championships in 2021, setting a national record of 1:28:45, and qualified for the Summer Olympics in Tokyo.
She came in 17th position overall, with a time of 1:32:36. Priyanka has won 60 medals in her career so far, but she is hungry for more. Her ambition is to win the most prestigious medal of all, an Olympic medal.
Gold Medal at the Indian Race Walking Championship in 2021.
Silver Medal at the Indian Race Walking Championship in 2020.
Finished 17th in the Tokyo Olympics.
Priyanka Goswami Height 
She is blessed with an attractive personality which is enhanced by her black hair and black eyes. Her height is 5 feet and 4 inches which is 163 centimeters.
She follows a regular and healthy diet in order to keep herself healthy with a weight of 55 kg or 121 lbs.
Height: 5'4″
Weight: 55 kg
Hair Colour: Black
Eye Colour: Black
Priyanka Goswami Husband 
There is no information available with regards to her husband, boyfriend, and any relationships. It is believed that she is single and enjoyed her life with her family and friends.
Priyanka Goswami Net Worth
According to some Internet sources, her estimated net worth is around $200K approx.
Did You Know?
Priyanka Goswami is an Indian racewalker who specializes in the 20-kilometer race walk. She retains the national record, finishing in 1:28.45, beating Bhawna Jat by one minute and nine seconds.
She won the 8th Open National and International Race Walking Championship in Ranchi on February 13, 2021, breaking the national record.
She qualified for the Tokyo Olympics 2020 and the World Athletics Championship in Oregon, USA after winning this major race.
Priyanka was unconcerned about the postponement of the Tokyo Olympics 2020 owing to the ongoing COVID outbreak. In reality, she began training for upcoming tournaments.
It was a trip that began in 2007. She became interested in gymnastics at a young age. Her parents and instructors were very supportive. Her principal granted her permission to miss school in order to attend the training.
In 2011, her father was fired from his job on the roads. Her younger brother was a state-level boxer who later moved to the business sector.
She persuaded her training to be transferred from one of the stadiums in Meerut to a state-run dormitory in KD Singh Stadium in Lucknow. But she finally lost interest in gymnastics and left the hostel.
She took a three to four-year hiatus from sports. Finally, she mustered the guts to return to the stadium for two months of intensive physical training from the instructor.
She soon learned that her stamina was sufficient to compete in larger track competitions.
She won her school's 800-meter race. Knowing her abilities, she moved to race walking in 2011 and competed in her first race walking event. She was in the 12th grade at the time. She also won the race the following year after finishing third in the district competition. She was given the bag as a prize for her efforts.
Interestingly, she had previously competed in 800m and 1500m events but had not received any awards. It wasn't until her instructor that she try her hand at race walking.
She gradually established her dominance in the race walk, capturing 60 medals while still sprinting strongly. These medals were awarded at Junior, Senior, and National competitions.
Two silver medals were won at the national level in 2017-18, and one gold medal was won at the all-India railway competition in 2018. Aside from that, she competed in the World Walk Championship in Italy and the Asian Walk Championship in Japan.
She began training at the Sports Authority of India in Bengaluru in 2015.
She joined the Indian Railways as a clerk through the sports quota in March 2018.