Jacqueline R. Walorski better known as Jackie Walorski (August 17, 1963 – August 3, 2022) was an American politician who served as the 2nd congressional district of Indiana's representative from 2013 until her death in 2022. She was a Republican member of the Indiana House of Representatives from 2005 to 2010, representing Indiana's 21st district.
Walorski won the Republican nomination for Indiana's 2nd congressional district in 2010 but lost to Democratic incumbent Joe Donnelly in the general election. Walorski took over the seat after Donnelly resigned to run for the U.S. Senate. On August 3, 2022, Walorski was killed in an automobile accident in Indiana.
Jackie Walorski Death in a Car Accident
U.S. Rep. Jackie Walorski was killed in a car accident in Elkhart County on Wednesday. According to authorities, Walorski and two other passengers were in a car traveling south on Indiana 19 south of Wakarusa at 12:30 p.m. when the incident occurred. A car traveling north collided with the Walorski vehicle. Zach Potts, 27, and Emma Thomson, 28, were also in the car with Walorski at the time of the incident and were killed.
Potts was the chairman of the Republican Party of St. Joseph County. Thomson was Walorski's director of communications. According to media sources, the group was returning from a ribbon-cutting ceremony in Claypool. The crash is currently being investigated by Elkhart County police. The driver of the northbound car was identified as Edith Schmucker, 56, of Nappanee, and she was pronounced dead at the scene on Wednesday afternoon.
Early Life
Walorski was born on August 17, 1963, in South Bend, Indiana, and grew up in the city's Gilmer Park area with her two elder brothers. Martha C. (née Martin) worked as a meat cutter at a local grocery store, and her father, Raymond B. Walorski, was a firefighter and the owner of an appliance company.  She was of Polish and German descent.  She attended Hay Elementary School as a kid and graduated from Riley High School in 1981. She then attended Liberty Baptist College from 1981 to 1983 before graduating from Taylor University in 1985 with a Bachelor of Arts in communications and public administration.
From 1985 to 1989, Walorski worked as a television reporter for WSBT-TV, a CBS station in South Bend, and from 1989 to 1991, she was the executive director of the St. Joseph County Humane Society. She was hired as director of institutional development at Ancilla College in 1991, a post she held until 1996 when she was appointed director of membership at the St. Joseph County Chamber of Commerce. From 1997 to 1999, she was the director of annual giving at Indiana University South Bend.
Walorski relocated to Romania in 2000 and established Impact International, an organization that provides medical supplies and care to underprivileged children. She worked as a Christian missionary in Romania before returning to the United States in 2004.
Real Name
Jackie Walorski
Nickname 
Jackie
Profession 
Politician
Marital Status
Married
Boyfriend/Husband Name
Dean Swihart
Age
58 Year Old (Died)
Height (Approx)
In Feet Inches- 5'7″

In Cms: 170 cm

Weight (Approx)
In Kg: 60 kg

In Pounds: 132 lbs

Eye Colour
Brown
Hair Colour
Dark Brown
Date of Birth 
17 August 1963
Birth Place
South Bend, Indiana, United States
Religion
Christianity
Nationality
American
Ethnicity
Polish and German ancestry
School/College Name
Taylor University, Liberty University, and Riley High School
Qualifications
Graduate
Father Name
Raymond B. Walorski
Mother Name
Martha C.
Sister/Brother
2
Source Of Income
Not Known
Appeared As
Not Known
Net Worth (Approx)
Not Known
Jackie Walorski Career 
Walorski ran for a seat in the Indiana House of Representatives in 2004, following the retirement of incumbent Republican State Representative Richard W. Mangus.
She ran for Indiana's 2nd Congressional District, which includes the South Bend and Elkhart suburbs.
Walorski defeated Democrat Carl H. Kaser by a margin of 64 percent to 36 percent.
In 2006, she was re-elected with 53% of the vote.
She won a third term unopposed in 2008.
During her time in the Indiana House, Walorski was a supporter of the state's Voter ID law, which requires voters to show government-issued identity when voting in person.
Walorski has been chastised for skipping a committee vote and the chance to prevent the Daylight Saving Time bill from moving out of committee, despite the fact that the bill failed on the House floor.
After a different bill introducing DST was passed, she authored and sponsored a bill to repeal DST, which died.
Walorski has sponsored legislation to combat identity theft, including a bill in 2006 that requires companies to notify customers who are Indiana residents of any security breaches that could result in identity theft, identity deception, or fraud, as well as making it a Class C felony and imposing a $50,000 fine on anyone who has the identities of more than 100 people.
Walorski got involved in the caucus and was named Assistant Floor Leader.
She was a member of the Family, Children, and Human Affairs, as well as the Public Policy committees.
Walorski launched her campaign to challenge incumbent Democratic U.S. Representative Joe Donnelly in Indiana's 2nd congressional district on January 31, 2009.
On May 4, 2010, she won the Republican primary with 61 percent of the vote, defeating Martin Dolan, Jack Jordan, and Tony Zirkle.
She was defeated in the general election on November 2 by a margin of 48 percent to 47 percent.
Walorski announced her intention to run for Indiana's 2nd Congressional District again on March 22, 2011. The largely Republican Indiana House and Senate redrew Indiana's congressional districts during the 2011-2013 legislative session.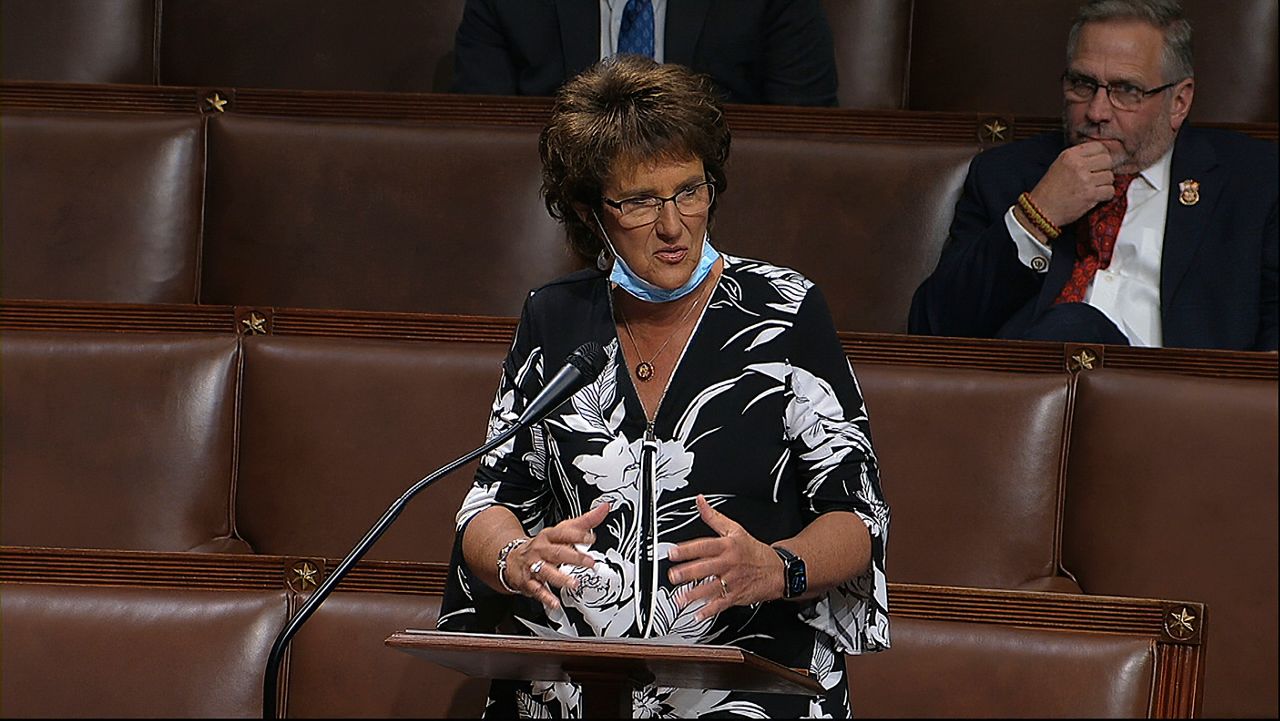 The newly created 2nd district comprised all of Elkhart County, Walorski's home county, after redistricting, and the demographics of the new district featured more registered Republican voters.
Donnelly decided not to run for reelection, instead running for the United States Senate.
Walorski faced out against Mishawaka Libertarian Joe Ruiz and Granger Democratic candidate Brendan Mullen, an Iraq War veteran.
Walorski won the 2nd Congressional District primary election with 73 percent of the vote on May 8, 2012.
Walorski defeated Mullen 49 percent to 48 percent, which was most likely aided by Republican presidential nominee Mitt Romney winning her district with 56 percent of the vote.
 On January 3, 2013, she took office. Donnelly was also elected to the Senate at the same time.
Walorski voted against Donald Trump's second impeachment and against the certification of the 2020 United States presidential election.
Walorski was unopposed in the Republican primary for the 2nd Congressional District in 2022.
Who is the Husband of Jackie Walorski?
Her marital status is married, according to the sources. Dean Swihart is her husband's name. She keeps her personal life private. So keep reading the post and checking out his whole Jackie Walorski information.
Jackie Walorski Net Worth
Jackie Walorski's net worth is believed to be $2 million. However, according to several estimates, Jackie Walorski's net worth is around $1.5 million.
Jackie Walorski Height and Weight
Jackie Walorski is a wonderful lady who looks stunning even in her 50s. She has won many hearts worldwide with her outstanding performance and beautiful personality. She is 5ft. 7in. (1.70m or 170 cms) tall and weighs approximately 60kg (132 lbs).
She has a thin figure with measurements of 36-24-34 inches, a dress size of 4 (US), and a shoe size of 6 (US). She has pale skin, brown hair, and dark brown eyes.