Bhawna Jat is a specialist in the 20-kilometer racewalk. She is the first female Indian athlete in this event to be selected for the Tokyo Olympics.
She made her senior debut at the National Interstate Championships in Hyderabad, India, in 2016, finishing at 1:52:38s. To get to where she is now, she has overcome poverty and the conservative worldview of her villagers. As of now, Bhawna is preparing for a great performance in this year's Commonwealth Games in Birmingham which was held from 30 July 2022.
Bhawna Jat Commonwealth Games 2022
Bhawna Jat has gone a long way from her Rajasthan village to the Olympics in Tokyo and now the Commonwealth Games. Hers is a narrative of perseverance and persistence.
She has overcome every obstacle that life has thrown at her. Bhawna is preparing for a great performance in this year's Commonwealth Games in Birmingham.
Early Life
Bhawana first started race walking and faced cultural pressures and misogyny, but it had no effect on her. Bhawana competed in her first competitive event in the Rajasthan Athletics Championships in 2010, a 3000m race walk on behalf of her school. Bhawana continued to compete at the district level and began to gain medals.
Bhawna was born on 3 January 1996 as the youngest of three children into a family of farmers. She was born to her father Shankarlal Jat (farmer) and her mother Nosar Devi (homemaker). She also has a lovely brother whose name is Prakash Jat.
Bhawna and her family lived in a mud house since they were poor, and her father was the only breadwinner. Bhawna had to drop out of college due to financial reasons. Bhawna couldn't even afford the shoes, so she had to compete barefoot.
Name 
Bhawna Jat
Profession
Indian Athlete
Height (approx.)
in centimeters– 162 cm
in meters– 1.62 m
in feet & inches– 5' 3"
Eye Colour
Brown
Hair Colour
Natural Black
Coach/Mentor
• Gurmukh Sihag
• Harpreet Singh
Event
20km Race Walk
Record (the main one)
Second Indian Woman to qualify for the Olympics in 20km race walk after Khushbir Kaur in 2016 Rio Olympics
Date of Birth
3 January 1996
Age (as of 2021)
25 Years
Birthplace
Rajsamand District, Rajasthan
Zodiac sign
Capricorn
Nationality
Indian
Hometown
Kabra Village, Rajsamand district, Rajasthan
Educational Qualifications
Undergraduate
Martial Status
Unmarried
Husband/Spouse
N/A
Parents
Father– Shankarlal Jat (farmer)
Mother– Nosar Devi (homemaker)
Siblings
Brother– Prakash Jat
Career and Achievements
Between 2011 and 2014, Bhawana competed in a number of Junior Nationals tournaments but came up empty-handed. Her professional breakthrough came in 2015 when she won a Silver medal in a 20-kilometer race walk at the Junior Nationals. She was accepted into the SAI center in Bengaluru the same year she won gold in the 10 km race walk at the Junior Federation Cup. She spent the next two years training there.
With a time of 1:53.36s, she finished 10th in a 20km race walk at the 6th National Open Race Walking Championships in 2019. This was her first senior-level national competition. Bhawana finished in 1:29.54 seconds at the National Open Race Walking Championships in Ranchi, Jharkhand, in 2020, breaking Baby Swomya's national record of 1.30:29 seconds.
Bhawna Jat's perseverance paid off when she became the first Indian athlete to compete in the 20km racewalk event at the 2020 Tokyo Olympics.
Silver medal at the Indian Race Walking Championships in 2022
Gold Medal at the Indian Race Walking Championships in 2020
Gold Medal at the Inter Railways Championships
Bhawna Jat Height 
She is blessed with an attractive personality which is enhanced by her black hair and black eyes. Her height is 5 feet and 3 inches which is 162 centimeters.
She follows a regular and healthy diet in order to keep herself healthy with a weight of 50 kg or 110 lbs.
Height: 5'3″
Weight: 50 kg
Hair Colour: Black
Eye Colour: Black
Bhawna Jat Husband 
There is no information available with regards to her husband, boyfriend, and any relationships. It is believed that she is single and enjoyed her life with her family and friends.
Bhawna Jat Net Worth
According to some Internet sources, her estimated net worth is around $100K approx.
Did You Know?
Bhawna Jat is an Indian racewalker who specializes in the 20-kilometer race walk. She is the first Indian female athlete to qualify for the Tokyo Olympics in this category. Her time of 1 hour 29 minutes and 54 seconds in the Ranchi 2020 national race walking championships is considerably under the Olympic qualification standard of 1:31:00.
She was the quickest Indian female in this category until Priyanka Goswami broke it on February 13, 2021.
She made her senior debut in 2016 at the National Inter-state Championships in Hyderabad, finishing in 1:52:38s.
Her adventure began in 2010 when her physical education instructor, Mr Hiralal Kumawat, introduced her to athletics. It all happened by chance when her trainer was transporting the local children to a district-level sports tournament when he met Bhawna. Bhawna was out grazing her cows. He invited her to come, and she agreed. Most of the events were already packed by the time they arrived at the tournament. The available slot was a three-kilometer race walk.
She would practice early in the morning so that the people would not see her wearing a short.
She comes from a low-income family. She couldn't afford the shoes, so she had to walk barefoot in her first game, where she finished second. Bhawna was inspired by this and competed at the national level, finishing fourth.
Her career took off after she won a gold medal in the west zone junior-level tournament in 2014 and a silver medal the following year. Her struggle with poverty continued in her early games when she walked barefoot and subsequently in slippers. It wasn't until her brother gave her a pair of Rs 500 shoes.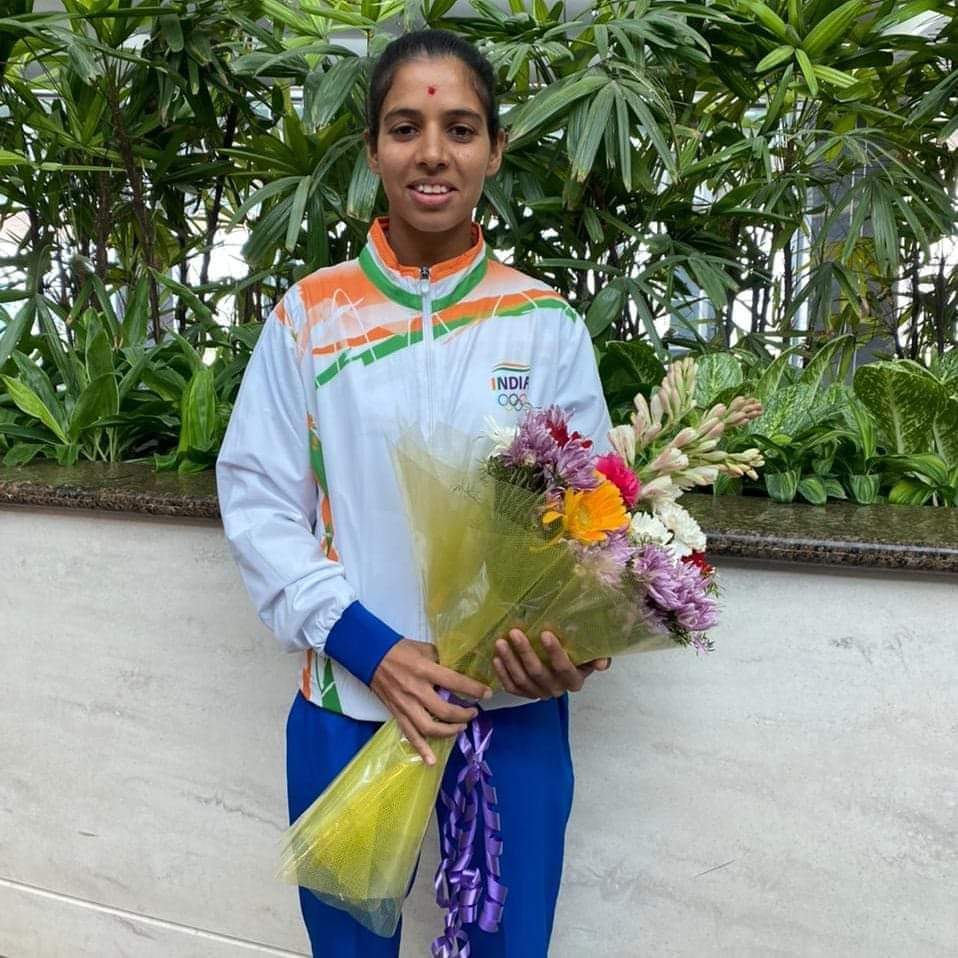 In order to support her family, she joined Indian Railways as a ticket collector in Howrah, West Bengal, in 2016. However, this just meant that she would have less time to develop as an athlete.
She desired paid vacation from her job, but Indian Railways stipulated that paid leave would be granted only if she participated in the inter-railway competition. Her paid leave was required because she had obtained an Rs. 2 lakh loan from the bank for her elder brother's treatment.
She was unable to partake in her first game in 2017 due to typhoid, but she did win bronze in 2018. This medal qualified her for a year of paid vacation to train.
She made her mark after that, winning both the inter-railway championship and the National open championship in 2019.
Despite her excellent performance, she was not granted paid leave following that. She, on the other hand, is unable to take an unpaid vacation because she was required to attend training in Rohtak, where she must pay for accommodation and other living expenses. Finally, she made the choice to travel to Rohtak.
Her other brother worked in a private firm in Jaipur. He was also a sportsman. He agreed to assist her. So, after quitting his work, he took out a loan to reassure her sister. Many condemned Bhawna's decision to visit Rohtak.
She was getting better by the day. Finally, the national race walking championships 2020 in Ranchi have arrived. She took the lead from the first km and was technically correct throughout the race. Finally, she won that game and qualified for the Olympics in Tokyo.
She then attended the SAI Training Center in Jaipur, Rajasthan, where she is being trained by her coach, Gurmukh Sihag. She hasn't raced in any international junior or senior events since June 2021.
She had never heard of the Olympics before 2011, and she is now representing India in this big event.